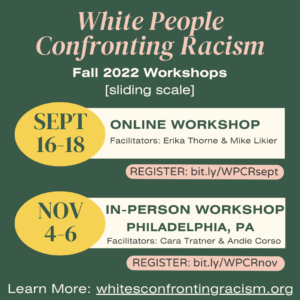 White People Confronting Racism started as a movement of white anti-racism activism, then developed into a series of training and education programs.  The workshops are currently administered through Training for Change (TfC).
The purpose of the workshops started as a way to grow a movement of white consciousness toward greater responsibility for, and engagement in, anti-racism work. The intent was to build on the work of abolitionists/educators who came before us and contribute to the other anti-racism work being done.
The underlying program values include non-violence, high-engagement, non-judgmental/non-shaming, but challenging approaches. The premise is that creating a space for white people is not the only means for doing anti-racist work — but it is a precursor to cross-race work and a companion to it.
"In a racist society it is not enough to be non-racist, we must be anti-racist."

–Angela Davis, African American political activist, scholar, and author.
The workshops were developed by Antje Mattheus and Lorraine Marino in the early 1990s and have continually evolved and grown since that time.
In the early 1990s, Antje and Lorraine were both doing organization development (OD) work but in different "worlds." Antje was oriented to community organizing and direct action campaigns, working primarily with non-profit organizations. Lorraine was doing OD work in nonprofit, communities, and corporate organizations, influenced by the intrapersonal focus of her spiritual practice in the Pathwork.* (The Pathwork is a body of spiritual wisdom from the work of Eva Pierrakos).
While operating in different spheres, both Antje and Lorraine were working with groups where race and other diversity issues were central. They both heard a consistent message from BIPOC colleagues and friends: "White people need to do their own work. I am tired of teaching them about race."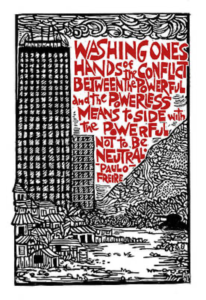 In parallel, each were hearing from white people, things like: "I'm confused. I'm not a racist. What am I doing wrong? I don't know what to do about racism," and so on. They were both observing the harm that often came to BIPOC (Black, Indigenous and People of Color) when white people who had not done any of their own work, came together in mixed race groups.
Antje and Lorraine learned of one another's work in the early 1990s and came together to answer the question in a more focused way: What is "white people's work" and how can we support other white people who want to take responsibility for their learning about and for their part in racism? Their exploration, research and collaboration led to the three-part "White People Confronting Racism" workshop series.
The Vision
Their shared vision was to help build a movement of white consciousness in support of racial justice. Many BIPOC activists and white abolitionists had come before them, and Antje and Lorraine wanted to add momentum to that work by engaging more white people in all areas of society to take greater responsibility for racism and to work for racial justice.
They wanted to create a space for white people to address learning needs specific to white people that were not readily available in mainstream society at that time. This included understanding privilege, race, racism, and how white people keep systemic racism in place – consciously and unconsciously — and to provide skills to help dismantle it.
In addition, by strengthening white people's capacity to be more proactive in their own learning, self-awareness, and intervention skills, it could support them to then actively influence other white people to do the same. This is why their concept of "white allies" is integral to the program – being able to both support and challenge other white people in this work.
Developing The Curriculum
To answer the question of what the work of white people should be, Lorraine and Antje felt that the content was for BIPOC to define. Thanks to a network of supportive colleagues, they were able to interview people of color of varied ethnicities—Asian, Latinx, African American, Native American, as well as people identifying as biracial. They also included a range of socio-economics, professions, and political orientations. They asked the participants what they wanted white people to learn. The resulting themes of these interviews are the basis of the current approach to the curriculum for three levels of workshops. (see Curriculum tab)
As a way to organize the content, the workshops cover three main skill areas:
Recognition skills – to more clearly see and name racism and racial dynamics in its many forms
Self-awareness – to understand one's unconscious racial programming and work with it; to face and work through inner emotional barriers that prevent action; and to develop greater courage and resilience versus fragility
Intervention skills – how to confront racism effectively at the individual, group, and systemic levels
The Work is Both Inner and Outer Focused
The design of the workshops is based on Antje and Lorraine's combined experiences over several decades of what they found best facilitates learning for white people around the issue of race. The approach is based on nonviolent principles, including creating non-judgmental, challenging, high-trust environments where people can deeply explore their beliefs and actions and challenge themselves and one another.
Both women felt strongly that the work had to include helping people explore their inner world as well as the outer dynamics of race and racism. We all grew up in a racially structured society, and we ingested the resulting racial biases and systems. So it was important for them to help people explore what they carry inside— to face embedded racial programming and beliefs—and to be able to deal with the emotional dimensions of racism. It wouldn't be enough to leave racism as an abstraction or as something that "other people" engage in. We often say one has to be both an "inner and outer warrior" fueled by compassion, not self-righteousness.
Ultimately, they developed a workshop manual, readings, processes/exercises, and a large body of designs and materials for the three levels of workshops. That work is now carried on by Sarah Halley and several skilled facilitators who have furthered and built on the work.
The workshop curriculum reflects significant influence and support from people of color with whom Lorraine and Antje worked closely in a cross-race dialogue group of African American and European (white) colleagues, the interracial TfC Board, various consulting teams, and personal friends.
TfC was instrumental in providing us a forum for offering the workshops early on, and their Board offered us support and feedback along the way. TfC continues to support the work and administrate the workshop registration
Over their time together, Lorraine and Antje have worked with a wide range of individuals and organizations who chose to do this work. In addition, they partnered with colleagues of color for customized versions of the work for multi-racial groups and organizations. They also tailored the program for organizations who wanted to bring the work in-house.  This customizing for organizations continues through the efforts of all the current facilitators.
The Work Now
By 2003, Lorraine and Antje needed to build capacity to meet demand and began training other facilitators of the work, starting with Sarah Halley and MJ McClure. These two added their own energy and approaches to the work, and helped the workshops thrive and grow.  From 2011 on, many facilitators have helped carry on the work.
Since 2015, Sarah Halley has taken on the leadership responsibility for the workshops as well as for bringing on additional facilitators. Thanks to Sarah, the workshops continue to thrive, grow, and benefit from her ability to bring a team of anti-racism facilitators of various orientations. (See the facilitator tab to learn more about the current team)
In 2022, the next level of the program was piloted for those who had taken the first level workshop and wanted to deepen their work.  Confronting White Supremacy is the next-level program, and includes a workshop intensive, followed by a series of follow-up days.  This cohort-based program is also a way to help a group build as a cohort who can continue to be a support to each other in a more ongoing way.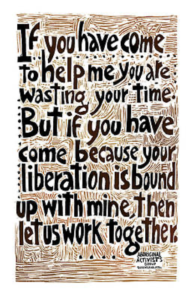 The ultimate goal of the work is to prepare white people to do the work of anti-racism.
Working toward racial justice requires the willingness to examine one's conscious and unconscious racialized thinking; emotions such as guilt, fear and defensiveness; and also to see how we actively contribute to racism. Equally important, to help us see how we benefit from maintaining the status quo.
These workshops are not intended to be the only way to learn about race dynamics and racism. The learning also requires sensitive cross-race dialogue, learning forums and continual applied practice, and the willingness on the part of participants to risk, fail, succeed, learn, and start again. Our goal is not to promote any one political tactic or measure but to provide a range of views that support anti-racism work versus censor voices, particularly voices of color, we may not align with.
White affinity groups are an important part of the journey, so that white people can learn how to enter cross-race dialogues or interactions without expectations that people of color take on the role of teachers. Often white people with little awareness of their privilege can put people of color in a position of having to prove their experiences are truly about race.
The process of working with other white people also enables group-level support for ongoing coalition building and practice in challenging other white people in ways that are productive. Most important, it is an environment in which exploring racial biases and beliefs for the purpose of change can be done without exposing people of color to unnecessary hurt.
Underlying Values and Assumptions
White responsibility. White people need to take greater responsibility for helping themselves and each other learn about racism, and should not expect BIPOC to teach them how to make change. A fundamental value and purpose of this work is to support the reality that white people are critical to making racial justice a reality – and for educating other whites.
Need for cross-race relationships and dialogue. This work is not meant to be the only way to learn about race and racism. It is also important to be in relationship and dialogue with BIPOC, where there is a mutual agreement to consciously discuss race.
High-trust, guilt-free space for nonjudgmental exploration. Learning happens though a supportive space free of guilt and shame – yet one that encourages honesty, risk taking, and challenging one another. Creating a learning community that balances being supportive and challenging to one another can lead to constructive confrontation of one another—and it also equips participants to respond to challenges by BIPOC without denial and defense.
Nonviolence in attitude and action. This work advocates change through nonviolence — externally and internally within oneself. The foundation of nonviolent personal and social change is built on one's inner attitude and resulting actions. Nonviolence does not mean passivity. It is action-oriented, though the action is thoughtful, effective, strategic, and grounded in compassion. We don't seek to be like the "enemies" we fight.
Awareness is important, but it is not the end point. Awareness is the first step in taking informed action. After developing awareness, we must learn how to take constructive action. The goal is to develop and engage with action-oriented allies through continuous learning. Over time and through informed experiences and continually learning from them people are better able to act on the skills learned.
We all can gain courage and confidence. Some workshop attendees are activists; others are newcomers to anti-racism work. But whatever their background, each participant is supported in discovering any limiting dynamics or emotions they hold that may inhibit the ability to participate at full effectiveness. Some activists start out motivated by anger; others are locked in fear. By addressing these internal barriers, we are able to build more confidence and the courage to act on what we have learn.
Developing awareness. The workshops are not about finding blame or giving up individual rights. They are about becoming aware of white privilege and white rights and how to use them in support of racial justice and not against it. The ultimate goal is to make rights and privileges available to everyone, following the guiding principle that if one person is injured, then the entire community suffers. The workshops foster a deep healing process and help release fear and guilt that block learning and informed action.
Accountability to people of color. This work must be held in partnership with BIPOC. Though led by white facilitators, the content and format have been created with the input and support of many people of color. To be effective anti-racism leaders and change agents, facilitators of this work need ongoing feedback from persons of color through formal and informal networks. In addition to benefiting from a formal council of accountability, facilitators are people who are involved with people of color personally and in working relationships. Having a means of ongoing feedback is essential.
Evolving nature of the work. The dynamics and language of race evolve over time. So the work must evolve and stay current as things change. The ongoing participation of colleagues of color in the design and planning of the workshops also provides significant and important guidance. And the ongoing energies, insights, and perspectives of the many facilitators who have carried on this work and continue to help ensure the work stays relevant and current to racial issues over time.
Self-facing and "ally-ship." The workshops place a high value on helping people learn to become effective allies to other white people, aswell as BIPOC. No one can do this work alone – and white people tend not to lean into support of one another in this work – yet that is what is required. White people need to continually develop their self-awareness and relationship skills, as this is a life-long process of learning, By learning together and building momentum at the group and systems level, powerful change can happen.
"In the end, we will remember not the words of our enemies but the silence of our friends." 

— Rev. Martin Luther King, Jr.