White People Confronting Racism started as a movement of white anti-racism activism in the mid-90s, then developed into a series of training and education programs.
We offer a series of workshops for white people who want to build their anti-racism consciousness, skills, and engagement in racial justice work.
Creating a space for white people is not the only means for doing anti-racist work — but we believe it is a precursor to cross-race work and a companion to it.
Current workshop offerings include Level 1 Series White People Confronting Racism Level 2 series, Challenging White Supremacy, for those who complete Level 1.(See "workshops" page) The workshops are currently administered through Training for Change (TfC).
The work can also be tailored for organizations who want to bring the work in-house and apply it specifically to their needs.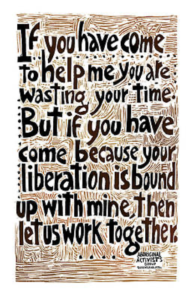 The ultimate goal of the work is to prepare white people to do the work of anti-racism.
Working toward racial justice requires the willingness to examine one's conscious and unconscious racialized thinking; emotions such as guilt, fear and defensiveness; and also to see how we actively contribute to racism. Equally important, to help us see how we benefit from maintaining the status quo.
These workshops are not intended to be the only way to learn about race dynamics and racism. The learning also requires cross-race dialogue, learning forums and continual applied practice, and the willingness on the part of participants to risk, fail, succeed, learn, and start again. Our goal is not to promote any one political tactic or measure but to provide a range of views that support anti-racism work versus censor voices, particularly voices of color.
White affinity groups are an important part of the journey, so that white people can learn how to enter cross-race dialogues or interactions without expectations that people of color take on the role of teachers.
The process of working with other white people also enables group-level support for ongoing coalition building and practice in challenging other white people in ways that are productive. Most important, it is an environment in which exploring racial biases and beliefs for the purpose of change can be done without exposing people of color to unnecessary hurt.
              "In the end, we will remember not the words of our enemies but the silence of our friends." 
                                        — Rev. Martin Luther King, Jr.Civile RIghts Leader
Underlying Values and Assumptions
White responsibility. White people need to take greater responsibility for helping themselves and each other learn about racism, not expect BIPOC to teach them. A fundamental value and purpose of this work is to support the reality that white people are critical to making racial justice a reality – and for educating other whites.
Need for cross-race relationships and dialogue. This work is not meant to be the only way to learn about race and racism. It is also important to be in relationship  with BIPOC, where there is a mutual agreement to consciously discuss race.
High-trust, guilt-free space for nonjudgmental exploration. Learning happens though a supportive space free of guilt and shame – yet one that encourages honesty, risk taking, and challenging one another. Creating a learning community that balances being supportive and challenging to one another can lead to constructive confrontation of one another—and it also equips participants to respond to challenges by BIPOC without denial and defense.
Nonviolence in attitude and action. This work advocates change through nonviolence — externally and internally within oneself. The foundation of nonviolent personal and social change is built on one's inner attitude and resulting actions. Nonviolence does not mean passivity or being "nice."  It is action-oriented, though the action is thoughtful, effective, strategic, and grounded in compassion. It may sometimes be passionate, strong, direct, bold.  We don't seek to be like the "enemies" we fight.
Awareness is important, but it is not the end point. Awareness is the first step in taking informed action. But developing awareness is not enough: we must learn how to take constructive action. The goal is to develop and engage with action-oriented allies through continuous learning. Over time and through continually learning from experiences, people are better able to act on the skills learned.
We all can gain courage and confidence. Some workshop attendees are activists; others are newcomers to anti-racism work.  Whatever the background, each participant is supported in discovering any limiting dynamics or emotions that may inhibit the ability to participate at full effectiveness. Some activists start out motivated by anger; others are locked in fear. By addressing these internal barriers, we are able to build more confidence and the courage to act on what we learn.
Developing new consciousness. The workshops are not about finding blame. They are about becoming aware of white supremacy consciousness and systems, how they work in us and advantage us, while disadvantaging BIPOC.  But we can use our privilege in support of racial justice, not work against it, consciously or unconsciously. The ultimate goal is to make rights and privileges available to everyone, following the guiding principle that if one person is injured, then the entire community suffers. The workshops foster a healing process and help to release fear and guilt that block learning and informed action.
Accountability to BIPOC. This work is held in partnership with BIPOC. Though led by white facilitators, the content and format have been created with the input and support of many people of color. To be effective anti-racism leaders and change agents, facilitators of this work need ongoing feedback from persons of color through formal and informal networks. In addition to benefiting from a formal council of accountability, facilitators are people who are involved with people of color personally and in working relationships. Having a means of ongoing feedback across race and from each other as allies is essential.  
Evolving nature of the work. The dynamics and language of race evolve over time. So the work must evolve and stay current as things change. The ongoing participation of colleagues of color in the design and planning of the workshops also provides significant and important guidance. And the ongoing energies, insights, and perspectives of the many facilitators who have carried on this work and continue to help ensure the work stays relevant and current to racial issues over time.
Self-facing and "ally-ship." The workshops place a high value on helping people learn to become effective allies to other white people, as well as BIPOC. No one can do this work alone – and white people tend not to lean into support of one another in this work – yet that is what is required. White people need to continually develop their self-awareness and relationship skills, as this is a life-long process of learning, By learning together and building momentum at the group and systems level, powerful change can happen.