The workshops were developed by cofounders Antje Mattheus and Lorraine Marino in the mid-1990s and have continually evolved and grown since that time.
Their work started as a way to grow a movement of white consciousness toward greater responsibility for, and engagement in, anti-racism work. The intent was to build on the work of abolitionists/educators who came before them and contribute to the other anti-racism work being done. Their work evolved to series of workshops, "White People Confronting Racism." The main goal of the workshops was to support white people to take more responsibility for their own learning and to become effective racial justice activists.
"In a racist society it is not enough to be non-racist, we must be anti-racist."

–Angela Davis, African American political activist, scholar, and author.
In the early 1990s, Antje and Lorraine were both doing organization development (OD) work but in different "worlds." Antje was doing community organizing and direct action campaigns, working primarily with non-profit organizations. Lorraine was doing OD work in nonprofits, local communities, and corporate organizations, influenced by the intrapersonal focus of her spiritual practice in the Pathwork.* (The Pathwork is a body of spiritual wisdom from the work of Eva Pierrakos).
Both Antje and Lorraine were working with groups where race and other diversity issues were central. They both heard a consistent message from BIPOC (Black, Indigenous and People of Color) colleagues and friends: "White people need to do their own work. I am tired of teaching them about race."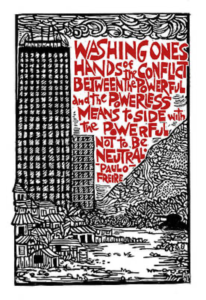 They witnessed the harm that often came to BIPOC when white people who had not done any of their own work, came together in mixed race groups.
Antje and Lorraine joined to answer the question in a more focused way: What is "white people's work" and how can we support other white people who want to take responsibility for their learning about and for their part in racism? Their exploration, research and collaboration led to the three-part "White People Confronting Racism" workshop series.
For more information about the the source and content of the workshops, see menu Curriculum.